Winter & Fun
in Valle di Casies
Winter & Fun
in Valle di Casies
Winter & Fun
in Valle di Casies
Winter & Fun
in Valle di Casies
Winter vacation in Val Pusteria
at the farm Untersieglerhof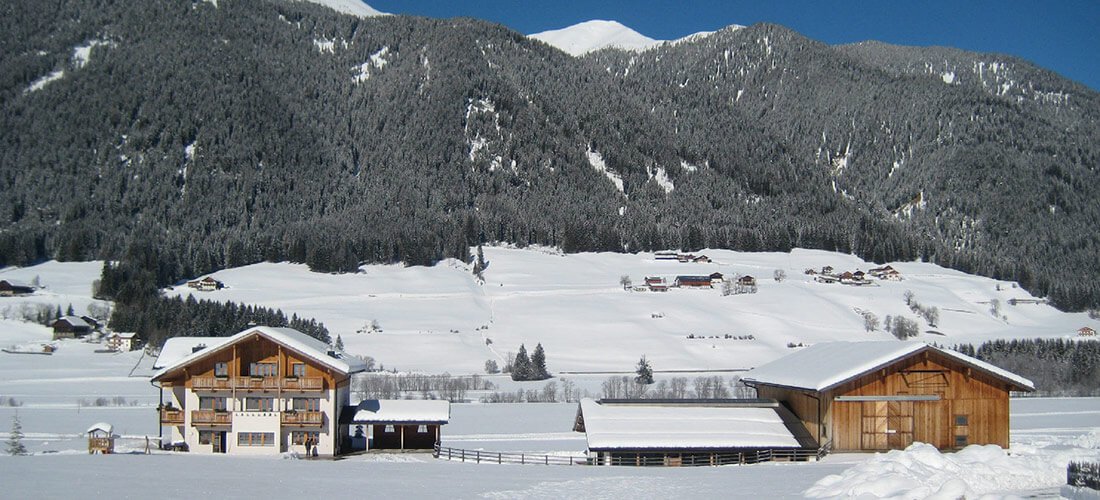 A winter holiday in Alta Val Pusteria – the Val Casies is part of the eastern part of the Val Pusteria – certainly offers a quite different experience compared to a skiing holiday in one of the most popular local ski resorts, such as Val Gardena, or Cortina. In our region, you will find pure peace and relaxation in a wonderful, pristine natural landscape. For beginners and children, there are many different options: the small tow-ski-lift here in Pichl, directly opposite our farm, the ski lift in S. Maddalena at the end of the valley, or the Guggenberg ski lift in the village of Tesido. And if you would like to experience a variety of ski slopes of all difficulty levels, truly spectacular panoramic views of the Dolomites and modern ski lifts, our ski shuttle will take you to the Monguelfo train station every morning, from where you may take the SKI VAL PUSTERIA EXPRESS and travel twenty kilometres to ski area Plan de Corones or to the ski resort Three Peaks Lavaredo Dolomites in the east. In the late afternoon, you may come back to our little idyll. Your sports equipment can be stored in our drying room.
If you come for cross-country skiing in Val Casies, then you are exactly in the right place. Directly from our farm, you may access the 42-km well-prepared cross-country ski network. From mid-December, you will find perfect cross-country skiing conditions, for free style or classic cross-country skiing. You will be motivated by the many athletes who are preparing for our local cross-country event, the Casies Valley Run. You may buy cross-country weekly tickets directly in our house. A visit to the nearby Anterselva region is also worth a visit. The town known for its biathlon championships and a phenomenal cross-country ski network.
Ski touring in Val Casies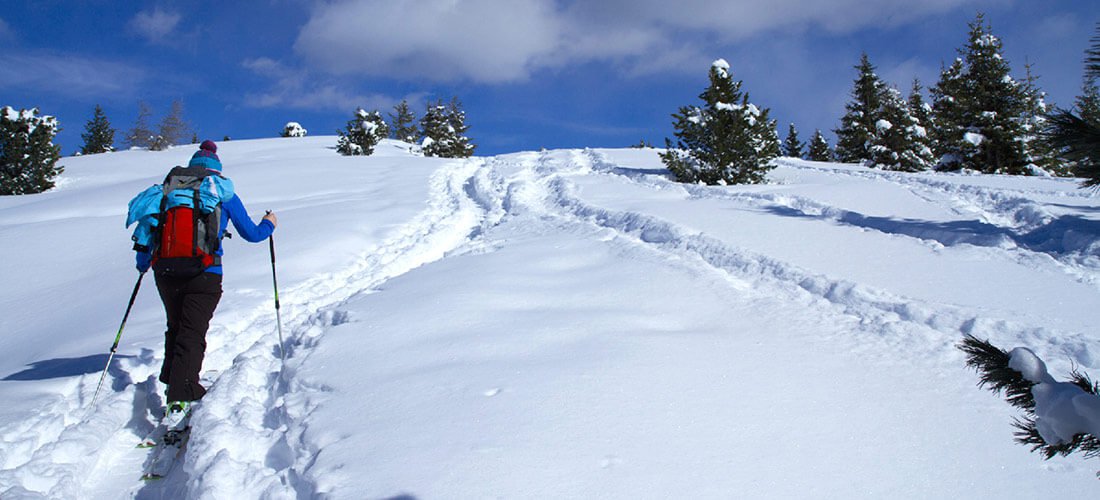 For ski touring enthusiasts, our valley is a true paradise. The entire winter season offers beautiful ski tours, but also corn snow tours are possible well into spring. Rotlahner, Hohermann or Kaserspitze are challenging tours at the Casies valley end. A tour with a lot of possibilities for variation leads to the Hochkreuz, while and corn snow tours in the spring we can recommend the Riepenspitze. The best way to go on ski tours is with a local alpine guide. We will be happy to contact one for you.
Do not miss the annual Sun Ski Touring Weeks, starting from the month of March. From Monday to Friday, there is something for everyone: from the leisurely entry trail for beginners at the Casies valley end to the crossing into Villgratental (A) or the neighbouring Anterselva Valley. Use the HOLIDAYPASS Premium to benefit from significant discounts for individual tours or tour packages for several days.
Rental ski equipment is available at the Val Pusteria Alpine School. Of course, you may store it in our spacious ski room.
Winter & snowshoe hiking, tobogganing, ice skating
skiing is not everything
Besides cross-country trails, there is also a fabulous network of well-prepared paths for extensive winter hikes and snowshoeing – which is a true highlight in Val Casies. We also offer guided tours. For example, the Panorama Tour to Aschtalm, Pfinnhütten, Pfinnscharte at the end of the Casies Valley. Maybe you are looking for a true challenge on snowshoes? Then take the bus to Transsennes on a Friday. This tour crosses the central part of the Nature Park Fanes Sennes Braies, one of the three natural parks in the immediate vicinity of Val Casies. Or go ice skating in San Martino, in Casies or Monguelfo, or try curling in Monguelfo or Tesido. In the winter, toboggan runs take you from different alpine huts into the valley. In Val Casies there is plenty of variety for a relaxing but active winter holiday in Val Pusteria.