Apartments
in Val Pusteria
Apartments
in Val Pusteria
Apartments
in Val Pusteria
Enjoy a relaxing hiking, family, or active vacation
in your holiday apartment in Casies
Your accommodation in Val Casies with at the farm Untersieglerhof offers you a comfortable retreat for your vacation days in South Tyrol. The rooms in our new building are modern and comfortably furnished. All three holiday apartments have two bedrooms, including bed linen. Together with the sofa bed in the living area, each apartment can host up to six persons. Upon request, we can also provide you with high chairs, a table seat, a baby bath tub, a changing mat, a cot, or a protection grid for the bed. The bathrooms are equipped with toilet, washbasin, bidet, and shower – one apartment even has a bathtub – and are modern and easy to clean. Hair dryer, toilet paper, bathroom detergents, hand towels and bath towels are included in our service.
The inviting eat-in kitchen
in your accommodation in Val Casies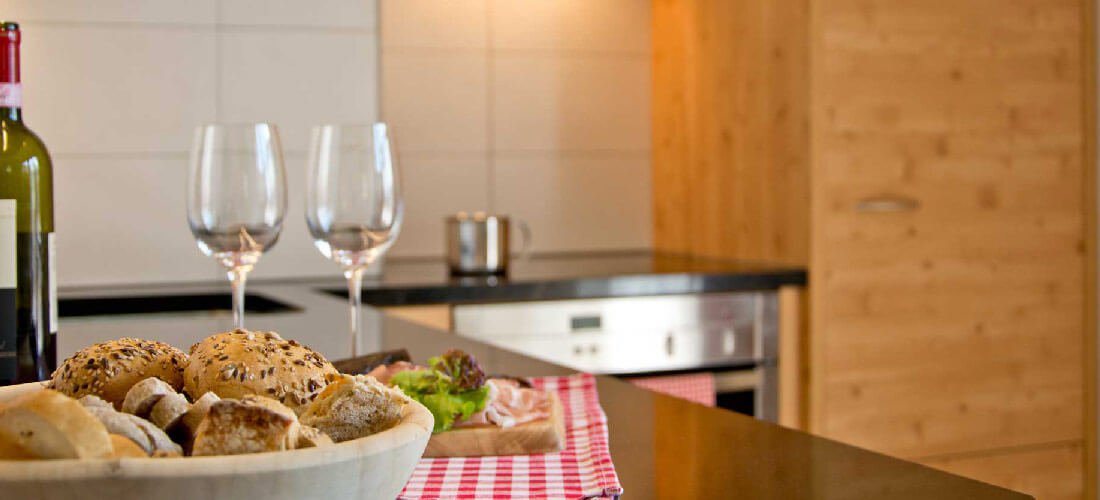 The heart of your holiday apartment in Casies is the living area with the fully equipped kitchen. Here, you will find a modern ceramic hob, a dishwasher, an oven, a fridge, a kettle, a hand-held mixer, and a microwave (upon request), as well as all cooking utensils and dishes you need for a carefree holiday in South Tyrol.
. A large dining table with a cosy corner bench invites you to eat together; furthermore, you'll find a comfortable sofa bed and a SAT-TV. A DAB and FM radio offers more than 20 free stations. Of course, you will find everything you need in the kitchen: coffee filters, dishwashing soap, tea towels, brushes, and sponges, as well as detergents for the dishwasher.
The balconies in our holiday apartments
in Val Pusteria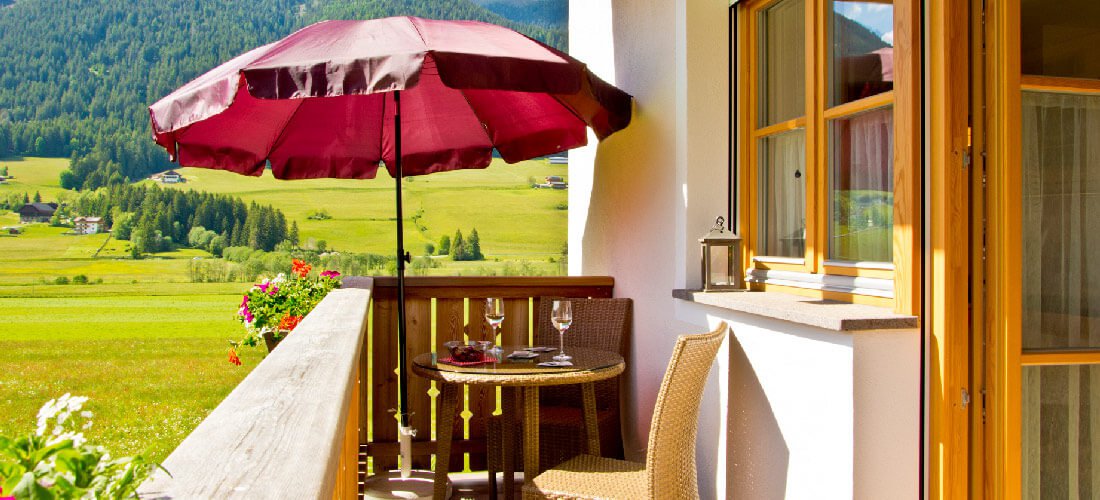 The real highlights of your accommodation in Val Casies are the balconies of our holiday apartments. They offer you a wonderful panoramic view over the valley and into the Casies mountains. From two balconies, you can even see the Val Pusteria up to the mighty Plan de Corones, twenty kilometres away. A table and chairs allow you to sit comfortably on your balcony
Relax with an exciting book or a rest with your loved ones on the large family swing on your balcony, to round off your vacation day. Spend a relaxing afternoon on the sun loungers sipping a cool drink. There is a practical clothes dryer, where you can hang your clothes in the fresh air.
Price list
Conditions & Services included
Apartments
Spring awakening , Golden autumn,
Carnival, Pre-saison, Herbstbeginn, autumn, Pentecost
High season(Christmas , New Year, Epiphany, High season)
Siegler for 4-6 persons
from 65 - 75 - 85 - 90 euro
120,00 euro
Concordia for 4-6 persons
from 65 - 75 - 85 - 90 euro
120,00 euro
Kronplatz for 4 (– 6 ) persons
from 65 - 75 - 85 - 90 euro
120,00 euro
Prices and discounts
Pre-saison: The prices apply for a minimum stay of 3 nights per apartment and night, with occupancy of minimum 2 persons.
For every additional person we charge 10€/night.
High-season: The prices apply for a minimum stay of 7 nights per apartment and night, with occupancy of minimum 4 persons. One breakfast basket included.
For every additional person we charge 10€/night.
Kids up to 3 years stay with us free of charge.
Included:
Arrival gift, small welcome present for toddlers, equipment for infants, bed linen, blanket, towels, hairdryer, fully equipped kitchen, table & kitchen linen (towels, tablecloth), towel change on request, vacuum cleaner system, detergents and utensils, satellite TV and radio, electricity and heating, W-Lan, hiking map, information material, fresh bread service to the apartment door (service billed at departure) and final cleaning. All fees and taxes, except for local taxes.
Guest Pass Holidaypass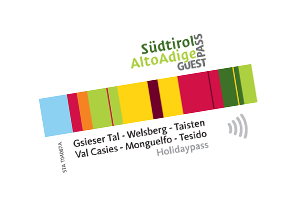 The amount of local tax is calculated based on the municipal regulation at the time of the stay (01.01.2018: 1,35 € per day and person above 14 years of age)
Usage of washing machine and dryer: 2,00€/wash cycle
Discounts for children

Kids up to 3 years stay with us free of charge.
Baby equipment is available free of charge upon request.
Pets
For your four-legged family members we charge 40€ in total(food is not included)
Please bring your own basket or blanket for your pet.
Please let us know if you want to bring your pet.
Booking
Please note: The booking becomes binding at a payment of a deposit for confirmation (booking guarantee) and the transmission of the booking confirmation. In case of cancellation, the deposit will not be reimbursed
Additional charges and terms of payment
Deposit: We welcome written reservations via e-mail. The reservation will be confirmed once the deposit of 100€ per week has been paid. In case of cancellation, the deposit will not be reimbursed
Please fill in your name and the holiday date as the purpose of payment.
Bank details:
IBAN: IT 94 L08148 58600 000300219941
SWIFT-BIC: RZSBIT21052
Raiffeisenkasse Welsberg- Gsies- Taisten
Untersieglerhof
Hofer Valentin
Puregg 11/a
Italien – 39030 Unterplanken
Pichl/ Gsies
For stays of less than 3 days there is a surcharge of 2 full days.
Breakfast basket on request for 25,00 euro
The fee for final cleaning is already included in the price. If the apartment is in a bad condition,
we charge up to 30,00€ – 50,00€.
Payment: Please pay cash on site. The cash limit in Italy amounts to 3.000 €. The following payment methods are allowed: non-transferable check, bank transfer.
Arrival & Departure
Arrival: On arrival day, we expect you starting from 3:00pm. Of course, you can also arrive earlier, but the apartment will ready for you only at 3:00pm. In case of a delay, we look forward to receiving a message from you. Mobile phone: 0039 3403141997
Departure: On departure day, please leave your holiday apartment not later than 10:00am. Other times are possible upon request.
Cancellation
Cancellation conditions according to Art. 1382 Civil Code
According to the Italian Consumer Protection Code, there is no right of withdrawal. However, we grant you the right to withdraw according to following cancellation conditions as defined in art. 1382 (Civil Code):
You may cancel your reservation until 1 month prior to arrival without any cancellation fee. We will retain only the deposit.
Cancellation until 1 month – 3 weeks before arrival: 30% of the full price; cancellation less than xx days before arrival: xx% of the full price.
Cancellation until less than 3 weeks before arrival: 50% of the full price; cancellation less than xx days before arrival: xx% of the full price.
In case of "no show" or early departure, the guest is required to fully pay for the entire booking period.
Here, you may find mandatory information according to the EU-Regulation N. 524/2013 of the European Parliament and of the Council.The platform for online dispute resolution for consumer disputes (ODR) to the European Commission is available here: http://ec.europa.eu/consumers/odr/
Cancellation insurance
In order to avoid the debit of cancellation fees due to healthy or other justified reasons, we suggest you to apply for our cancellation insurance provided by our partner "Europäische Reiseversicherung": https://partner.europaeische.at/roter-hahn-en?AGN2=145453189
Exclusion of liability
We strive to provide accurate and complete information on this website. However, we assume no liability or guarantee for the topicality, correctness and completeness of the information provided. We reserve the right to make changes without notice or to amend the information. Only the specific service offer or the booking confirmation is binding. For external links we can – despite careful control – assume no liability. For the content of linked pages exclusively their operators are responsible.
Data protection
For the purposes of the GDPR, we inform you that your data will be used and saved exclusively for processing your application and will not be disclosed or distributed to third parties. Regarding data processing, you are entitled to all rights according to the GDPR. The holder of the rights is Valentin Hofer – For more information about your rights, please visit here.