Active summer
Spend an unforgettable hiking holiday in South Tyrol in Val Casies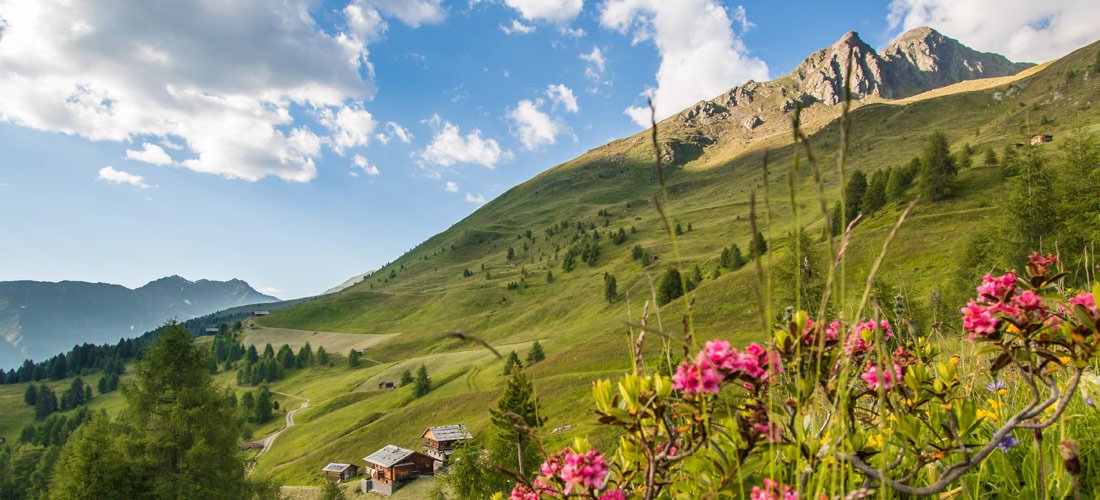 Hiking in Val Casies is a pure pleasure for all ages. On foot, with a stroller, a walker, or even a wheelchair, you will find suitable and well-marked paths for every preference and requirement.
If you wish to go higher, the peaks of the surrounding Defregger Alps or Vedrette di Ries offer unique hiking destinations with fabulous panoramic views over the Dolomites and the entire South Tyrolean mountain world.
Alpine lodges in Val Casies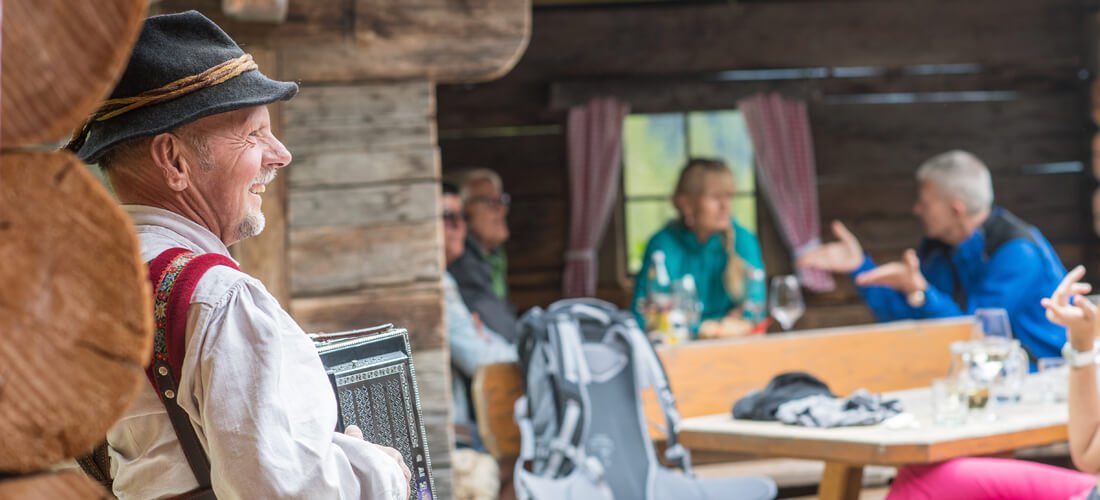 There are so many alpine huts in the mountains at about 2000m above sea level, some of which can also be hiked on a day trip, as for example in the Casies mountains in South Tyrol. Here, you will always get a hearty afternoon snack. Smoked sausages, South Tyrolean bacon, other smoked meat and various kinds of cheese come to the table and satisfy the hunger of the hikers. However, in many huts, the culinary offer goes far beyond that. They have proper kitchens and you may enjoy many South Tyrolean specialties, such as endless variations of the famous "Schlutzkrapfen". These are pasties with different fillings, braised or in different sauces, according to the preference of the chef. From S. Maddalena – a village that you may easily reach from the farm Untersieglerhof in ten minutes by bus – you can take a leisurely walk to the Uwaldalm (approx. 1 hour and a half). Here you will not only have a great view of the Val Casies from the terrace, but the dishes are simply delicious and will delight the eye and the taste buds.
Many other alpine huts in Val Casies invite you to spend some time relaxing before or after your hiking excursion. From S. Maddalena, you may also reach the huts Moosalm, Aschtalm, Kaser Alm, Stumpfalm, Kradorfer Hütte and Messnerhütte on the Pidigalm, Weissbachalm or Oberbergalm. From S. Martino, you can walk to the Hinterschüherhütte or Tolder Hütte; and from here in Pichl you may visit the rustic Houfahitte. For your holidays in Val Casies we can also offer you a different alpine lodge every day. A list of huts with the opening hours and a summer and winter hiking map are available on arrival in your holiday apartment.
Hiking & biking vacation in Val Casies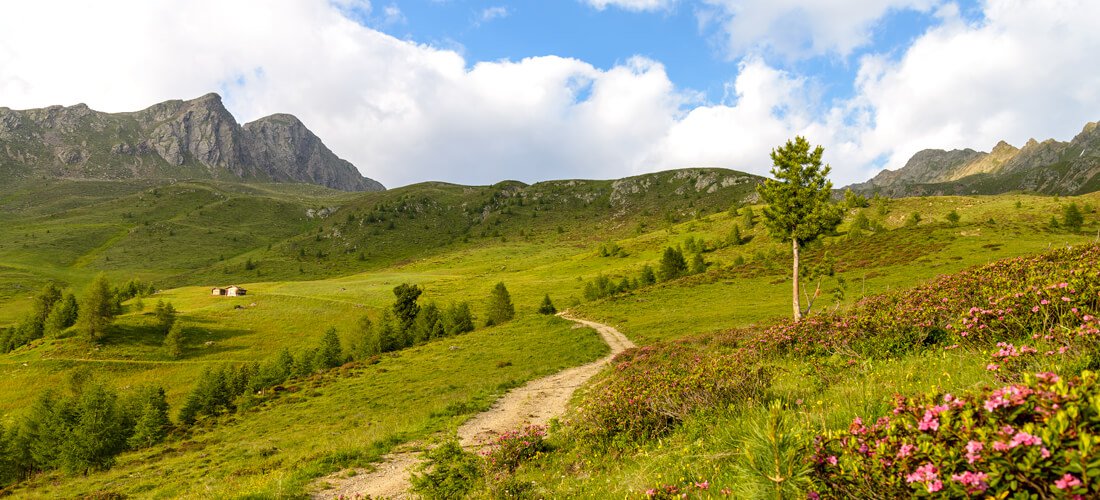 Not only our alpine huts are beautiful hiking destinations in Val Casies. If you are not a good walker or need to push a stroller, you will still find beautiful paths that are mostly even in the valley. If you wish to reach greater heights, you may climb some of the peaks around the valley. A beautiful hike, where you also get to know some of the most beautiful mountain pastures, is the tour to the peak Defregger Pfannhorn at 2819 meters. If you love the midlands, but also great views, you may walk from Casies Törl to the neighbouring Anterselva Valley. There you will find a wonderful South Tyrolean mountain lake – Lake Anterselva. The return journey is possible via the excellent South Tyrolean public transport and your Holidaypass Premium.
The Val Casies also offers a great starting point for bicycle tours. If you are just moving in the valley or along the Val Pusteria Bike Network in Monguelfo, you may use your regular bike or street bike. Away from the streets, we have great routes for you if you wish to start a mountain bike tour directly from the farm Untersieglerhof. The Valley View Itinerary is 15 km long, a perfect option for beginners. More demanding mountain biking trails are the tours to the Gschwendter Boden Alm, the Laxiden – Karbach round trip or the Acherle to the Pidigalm. If you wish to take a bike tour, we will be happy to organize and/or deliver rental bicycles.
Your sports equipment, bicycles and hiking boots can easily be stored in the in-house storage room with a boot dryer and a large sink.
Picking mushrooms in Val Casies
For a fee of about eight euros you may then collect one kilo of mushrooms per person and day. We will be happy to inform you about all current regulations.
Leisure activities during your farm holiday in Val Casies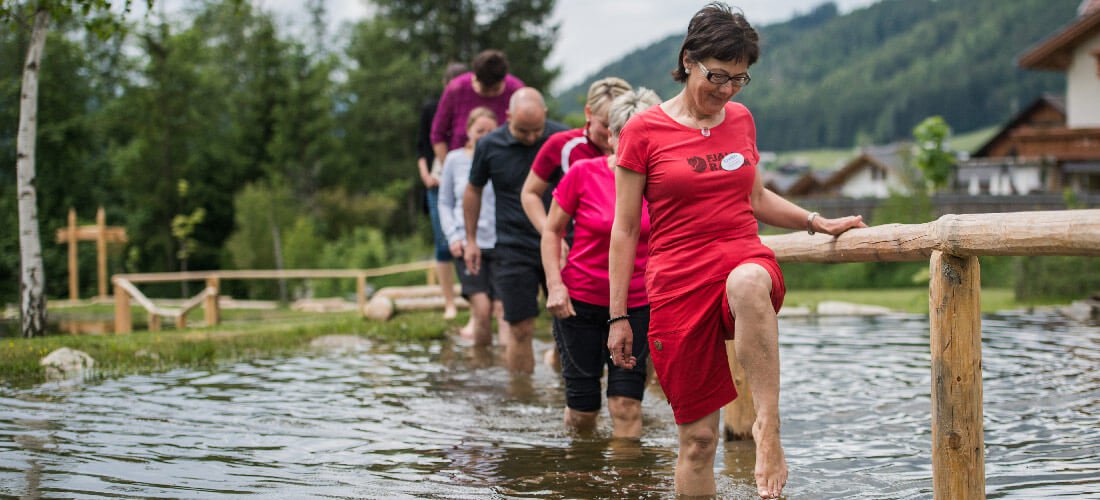 At any time of the year, the tourist office Val Casies – Monguelfo-Tesido offers an alternating weekly programme, which can be used free of charge or at a reduced price for the holders of the Holidaypass Premium. All participants up to 14 years always use the offers free of charge. There is something for everyone – guided spring walks, cultural days, night skiing, cross-country skiing, snowshoe hiking, "Lattl" Shooting, Kneipp treatments, and much more.
If you after a mountain tour, you would like to take a dip in cool waters, you will find various mountain lakes, such as Lake Braies in the Braies Valley on the other side of Val Pusteria. You may also enjoy plenty of water fun in the various, beautiful, South Tyrol swimming pools or leisure pools, for example, in the nearby panoramic swimming pool in Monguelfo.
Besides hiking paths, our mountains also offer beautiful climbing routes of different levels of difficulty. We are happy to arrange an experienced mountain guide for your climbing tours.
For those who like horseback riding, the Val Casies has nice offers, like the Sonnenhof riding stable here in Pichl. In Tesido, you may participate in trekking trips with the "Val Pusteria Lamas", while during the winter in S. Maddalena you may book horse-drawn sleigh rides in Val Casies.
For a shopping trip, the nearby city of Brunico is the best choice. If you are looking for a little more choice, you may also visit the cities of Bressanone or Bolzano or even cross the Brennero Pass to Innsbruck.
There are more than a hundred museums, monuments, castles, and fortresses in South Tyrol – they always offer exciting destinations. Here, in Val Casies and surroundings, we have the farm museum Voadohuibn in S. Maddalena, where you will find many interesting facts about the ancient, genuine, peasant life in South Tyrol. With its art exhibitions, concerts and festivals, the Monguelfo Castle displays many works of famous painters and artists from the Baroque, Romanesque, and Gothic periods.
Active summer in Valle di Casies